A warm gray is just right for any style of home, and it's a great option for those who don't want to rock the boat with neighbors or a homeowners association. It's also a smart choice for anyone about to put their home on the market, because this is a hue that will appeal to a wide audience.
Here are examples of feel-good warm gray exteriors, along with paint palette suggestions featuring warm grays as the primary house color.
Gray shades run the gamut from cool, silvery blue-grays to deep, dark charcoals to warm, brown-tinged hues. The best way to evaluate whether a gray falls on the cool or warm end of the spectrum is to gather up swatches of various grays and place them next to one another.
In this context it's much easier to identify warmth or coolness: Some of the grays will appear more green or blue (cooler) and others will have more yellow, orange or brown in them (warmer). I like using warm grays on the exterior of a home because the color plays well with most other colors in a natural landscape. It can also bridge any challenging hues in the palette, such as an existing brick or roof color.
I am a huge fan of bold colors but will be the first to admit that they are sometimes off-putting and distracting. In fact, I will often use a vibrant color palette to gussy up or visually distract from inferior or unattractive materials or design elements. Conversely, if you have a home with stunning handcrafted details, such as the siding and trim on this charming Victorian, keep the color palette simple and let the rich texture and quality craftsmanship take center stage.
Here's another beautifully detailed home with a simple color palette that allows the quality materials and interesting shapes and textures to stand out. It's also a nice example of how to play up the trim on a house without going with a high-contrast white hue, as is commonly done. This palette of warm grays, browns and reds is simply elegant, and perfect for this home.
This contemporary home has sensational sleek lines that are allowed to be the focal point. I also appreciate that the house colors don't fight with the beautiful surroundings. With a subdued neutral house color such as this one, you can get away with pretty much any color you like for the front door or other small accent areas. The jolt of fun color on this door is such a nice touch.
9 Daring Colors for Your Front Door
Red brick can be tricky to work into a color palette, but you can't go wrong pairing it with a warm gray. It neither fights with nor exaggerates the red-orange hues in the bricks. If you look closely at red brick, you'll often see small bits of warm gray, which you can match for use on the siding.
After years and years of beige, tan and brown hues being among the most popular exterior colors, I find these grayer hues give a fresher, more modern vibe. A larger home like this could feel overbearing if it was painted a deep, dark color, so I think this medium warm gray is the perfect hue. The white trim looks clean and crisp, and also helps break up the color. As with the previous example, you won't go wrong if you pick up a warm gray found in the stone cladding at the base of the house.
Dan Nelson, Designs Northwest Architects
When in doubt about what color to paint your home, look to the ground for clues. Earth tones — muted shades of greens, yellows, browns and grays — are popular paint colors for homes for a reason. They aren't overwhelming in large doses and they allow a home to fit in rather than fight with the landscape. In the case of gray and brown hues, they also won't show dirt and grime as readily as a white or other light-colored home.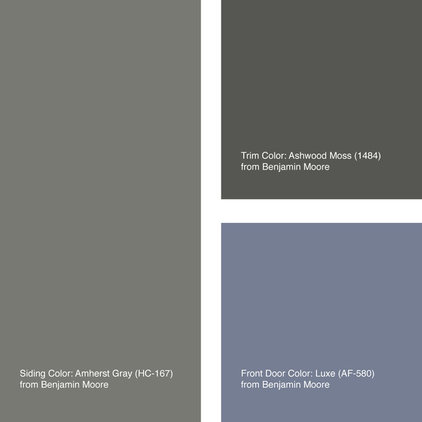 Try These Palettes
If you go with a warm gray siding color, you have lots of options for the coordinating trim and accent colors. Just remember to use vibrant colors for details you want to stand out, such as your front door. Conversely, paint less attractive items like your downspouts or an unsightly garage door the same color as the siding so they blend in.
Siding color: Amherst Gray
Trim color: Ashwood Moss
Front door color: Luxe
All from Benjamin Moore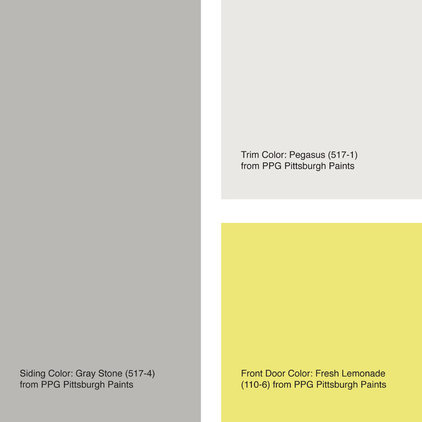 Siding color: Gray Stone
Trim color: Pegasus
Front door color: Fresh Lemonade
All from PPG Pittsburgh Paints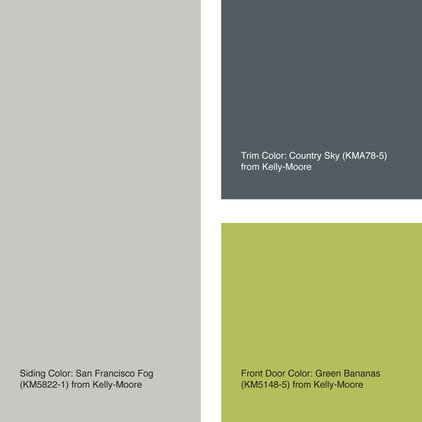 Siding color: San Francisco Fog
Trim color: Country Sky
Front door color: Green Bananas
All from Kelly-Moore
Tell us: Is warm gray a winner? How have you used this hue on your home?
See more exterior colors: Navy | Orange | Green
Bobbie Files
508-521-9480
Contact me about Selling or Buying Your Home in Massachusetts
Bobbie Files is a Real Estate agent at SUCCESS Real Estate, covering the Bristol, Plymouth and Norfolk County areas.