Rent to Value: An Easy Trick to Spot a Good (or Bad) Investment
For the average person, figuring out whether the numbers on a home will work to use as a rental just don't make sense. You can't put lipstick on an unprofitable pig, no matter how good it looks in short shorts. 😁
There are lots of places in Boston, Newton, and the like where the numbers don't make sense. How can you quickly spot a good investment area from a bad one? There's a quick and easy calculation. Let's start with an example ...
Let's Buy a House and Rent it Out, Honey!
Let's say you decide to buy a home in Taunton to rent it out for a little extra monthly income.
Here's a little Taunton gem I found while going thru MLS: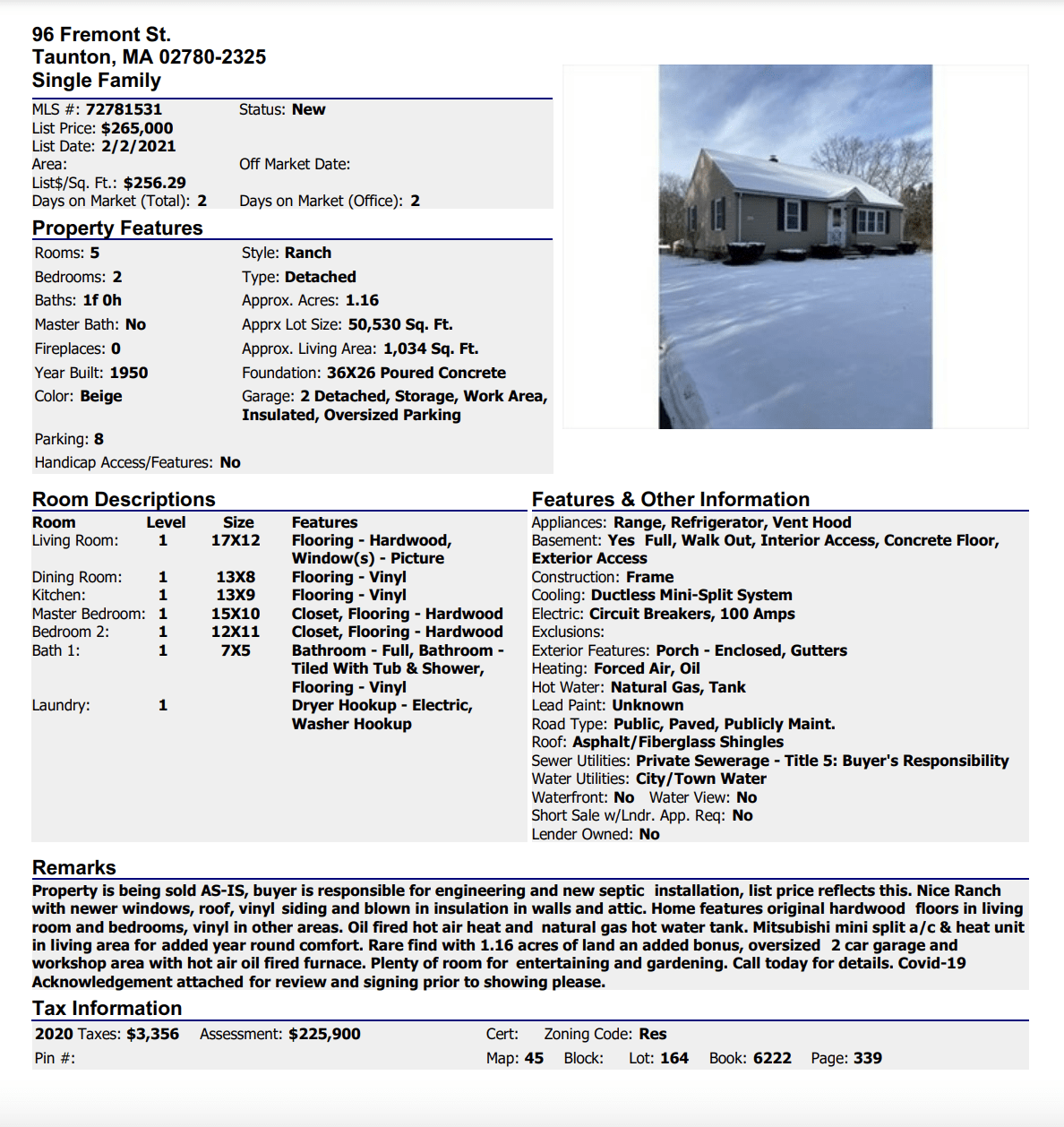 How Much Can We Make
So how much can you rent this little puppy out for? Doing a quick search for rentals of the same size and same area, it seems the typical going rental rate is $2,000/month. This is on the conservative side because all the rentals I found were 3 bedrooms instead of 2 *BUT* were not single-family homes.


This gives us an annual income of:
INCOME = $2,000 / month x 12 months = $24,000 / year
Not too shabby … or is it?
How Much Does it Cost
There are lots of expenses in renting a place - repair and maintenance, utilities, and property management if you're outsourcing it, just to name a few. And this spring chicken probably needs some work from the outset. But before we even dig into those expenses, let's look at just the cost of purchasing it.
Here's a quick loan calculation.
Price: $265,000
Cost of Septic System: $25,000
Total Purchase Cost: $290,000
Down Payment of 10%: 29,000
Interest Rate: 3.0%
Term: 30 Year Fixed Rate
Note that down payments on a home typically vary from 5-20% so I chose 10%. Interest rates can vary over time obviously, but currently, in 2021, 3.0% is a good estimate.
Plugging the inputs into your favorite loan calculator gives the following payments:
Monthly payments (principal + interest): $1,100
Monthly Taxes: $280
Monthly Insurance: $97
Monthly PMI (insurance for mortgage): $109


TOTAL: $1,586 / month
So to just purchase the place and pay the required property tax will cost us annually:
LOAN & TAXES EXPENSE = $1,586/month x 12 months = $19,032 / year
Before we even get into any of the other expenses, let's just take a quick look at where we stand ...
PROFIT = INCOME - EXPENSE:
INCOME = $24,000 / year
LOAN & TAXES EXPENSE = $19,032 / year
PROFIT (Without additional expenses) = $4,968 / year
RENT-TO-VALUE RATIO
A percent defined as the monthly expected rent for a property divided by the purchase price of the property.
The higher the rent to value ratio, the better an investment. An ideal rent to value ratio is 0.7%, and 1% or higher is excellent.


So what's the rent-to-value ratio in our example property?


We estimated the rent to be $2,000 per month and the purchase price was $290,000. That gives us:
RENT TO VALUE RATIO = $2,000 / $290,000 = 0.0068 = 0.68%
So the rent to value ratio on our property is 0.68%, which is only slightly less than the targeted minimum of 0.7%. How much less? Well, to hit 0.7% in rent-to-value, you would need to charge $2,100 instead of $2,000 in monthly rent.